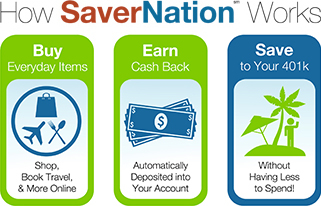 1 Buy Everyday Items
Join the SaverNation program and make your everyday purchases of travel, music, office supplies, apparel, electronics, concert tickets and more from participating merchants.
2 Earn Cash Back
Nearly every national brand participates and gives you 1-15% cash back for your online purchases.
3 Save for Retirement
SaverNation's patent-pending technology automatically converts your cash back into extra pre-tax plan contributions or deposits it into the account of your choice.